Hot List for Mazinger-Z
---
Table of Contents
This page includes links to other places on the web that have Mazinger related stuff. They are divided in the following categories:
Other Mazinger web-pages.
Japanese Super Robot Collecting.
---
If you want to add your page to my list or have any question or information feel free to e-mail me at:
---
Other Mazinger web-pages.
A brief listing of some good web-pages related to Mazinger or Super Robots.
Go Nagai's Mazinger Z This page belongs to my good friend Teddy. It's one of the best Mazinger web-pages. It has a lot of images, information CGI , Manga, new music,video games sections and the new drawings section. The page is updated frequently and neatly divided in easy to follow categories.
Mazinger list at ONElist The list created by Jonny Pérez. This list is dedicated to Mazinger and Great Mazinger fans. You can include information about all aspects of Mazinger Z and Great Mazinger including history and facts of this great anime. You can share information with other people and even post Mazinger Z merchandise (movies, video games, toys, posters, comics, ect...) for sale, trade or wanted lists. (Use the word Mazinger on the list "Find a list" section)
La Página de Etienne. If you are looking for excellent reproductions of the Mazinger series, as well as other Super Robot themes my friend Etienne has the right stuff at just the right price. Visit his site.
Gianluca Panebianco Home of 3D Gianluca my friend from Italy has a great page with a lot of computer generated 3D graphics of Mazinger Z and other Go Nagai's robots.You may have heard from his site by its old name Panozzo Home of 3D, as it's listed on some webrings.
Instituto de Grabaciones Fotoatómicas Visit this page created by Virgilio "Berto" Melendez. Virgilio is the creator and silent hero behind much of the Mazinger sounds around the web.
Dr. Hell's Page Let's give a break to Dr.Hell . Visit this great page and discover the story of the misunderstood Dr. Hell and his buddies. (spanish and english)

Guyver's Mazinger page- Guyver has a big collection of Super Robots Japanese anime from the 70's.
Mazinger-Z Internet Fanclub-A great Mazinger page. They have images,sounds and a lot of information. This is where I got my complete episode listings.This page is not updated frequently. It is in Spanish.
Robot Anime Ring -A nice collection of Mazinger sites. Visit it and expand your possibilities.
Roberto's Mazinger page- Roberto has a lot of information and images of Mazinger and Great Mazinger.This page is in English.
Super Manga Robot's Land You can find images, music, stories, backgrounds, merchandising and all other kind of stuff towards our greatest heroes.
Super Robot page. A great collection of images, robot descriptions,CGI,Videogames, multimedia and other cool stuff.
---
Japanese Super Robots Collecting
Some web-pages that don't fall into the previous categories, but that you definitely have to visit.
Alen Yen's Toybox DX- If you are into Super Robots, especially Diecast and Jumbo Machinders you will really enjoy this site. Allen is one of the authorities on the subject of Japanese Super Robot collecting.
Bandai's Gallery-A visit to Bandai's Diecast Gallery (In Japanese only).
---
Member of the Robot Anime Ring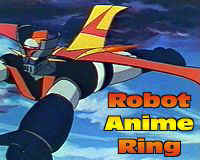 This Robot Anime Ring site is owned by Carlos Báez.
Click for [ Next Page | Skip Next | Random | Previous Page ]
Want to join the ring? Click here for info.
---
Carlos D. Báez González
Revised: December 13, 1998.