The Z Machine
Introduction
I still can remember vividly as I ran to the TV store in the shopping mall every Friday at 6:00 PM, while my parents did some shopping. I was about 4 or 5 years old when Mazinger-Z was broadcasted for the first time in Puerto Rico, on channel 4. I'm sure that that there are a lot of people out there who grew up with similar experiences. Those experiences in some way or other certainly changed our perspective of the world. For the Japanese Super Robot generation and specially the true Mazinger-Z lovers. This page is dedicated to you. Enjoy the ride!.
New Bandai's Great Mazinger images on the toy section.
(Because they are too cool to wait till next month update!)
The Z Machine will be completely updated.It will include new sections, data, images and the overall look will also change. Since the page has grown so much since its first iteration I will organize it differently so it would be easier to find things. E-mail me also for any Mazinger article you are looking for. I'm selling toys, models, Cd's, Videos and many more things that become available. There will be an online shop soon.
Revised: December 13, 1998
. Thanks for the great feedback received related to my web page and the big amount of emails. Copyright Disclaimer. It is totally prohibited and illegal to use any of the original material on my webpage in other web pages.(Total or partial reproduction) I am a member of the Anime Robot Ring and an association that protects Mazinger web pages against piracy. Piracy acts will not go unpunished and will be reported to the corresponding authorities regulating copyright. Thanks and enjoy!

If you have any question or information feel free to e-mail me at:
LE FastCounter
---
Member of the Robot Anime Ring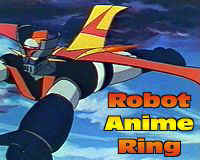 This Robot Anime Ring site is owned by Carlos Báez.
Click for [ Next Page | Skip Next | Random | Previous Page ]
Want to join the ring? Click here for info.